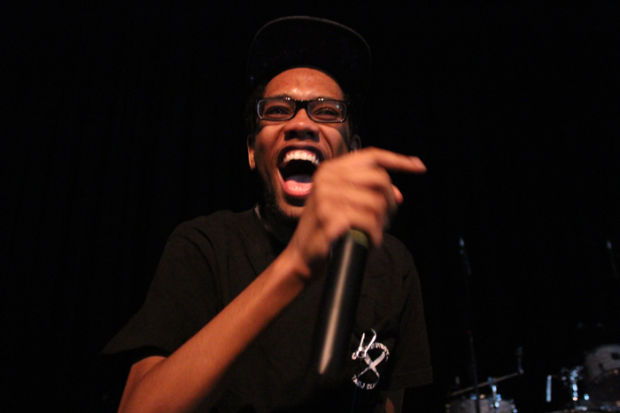 (photo by Grey Satterfield)
Michael Penn II, otherwise known as CRASHprez, is a Washington, D.C.-born, P.G. County, Maryland-bred 19-year old MC, spoken word artist, producer, and audio engineer. He can most likely be found on your local WiFi feed with a Sprite can and a God complex, frantically scribbling another verse as if he is aware of the exact hour of his own demise.
CRASH began recording music in the basement of his home at the age of 14 years old using the alias MDP. Merely equipped with a USB microphone he received for Christmas and the family home computer, he began recording demos on his own and learned to produce from longtime friend DJ Shynin. This early work culminated in the release of his first mixtape in May 2009. It was flawed, scatterbrained, and opinionated… but it was one of the first things CRASH could call his own.
Now 12 projects deep in merely four years of activity, CRASH has evolved into a diverse and seasoned writer who is unafraid of expressing his emotions or opinions through witty wordplay, sharpened sarcasm, and a darkened style of humor.
His subject matter is polished enough to walk the tightrope between stand-up comedy and cynical social commentary, yet rebellious enough to break hip-hop's boundaries while pondering their existence in the first place. He is one of the founding members of the Kool Klux Klan hip-hop collective based in the DMV area and a member of the Grammy Family hip-hop collective based in the DMV as well.
CRASH is no stranger to the spoken word scene as well. He has frequented local open mic scenes since the age of 14. He began slamming as a member of the Creative Writing Alliance which led to him becoming a member of the 2010 Maryland All-Stars Youth Slam Team at the Brave New Voices International Youth Poetry Slam in Los Angeles, CA. More recently, he was a member of UW-Madison's 2012 Slam Team at the College Union Poetry Slam Invitational in La Verne, CA.
CRASH has also excelled in his personal pursuit of knowledge; he is currently on scholarship for his accomplishments in artistry and academia under the First Wave Urban Arts scholarship program at the University of Wisconsin-Madison while pursuing a degree in journalism. Now a sophomore in college, CRASH brews and perfects his blend of unfiltered hip-hop through a collision course of sleepless nights, unbalanced meals, late deadlines, and a passionate vision quest for self-discovery.
Please direct all booking, feature, and press inquiries to senorPREZIDENTE@gmail.com.
Discography
Diecisiete 
#TransitionTuesdays
Basement Bootlegs, Vol. 3: Transition 
Basement Bootlegs, Vol. 3: Transition (Robitussin Edition) 
Cigarettes & Pornography
Enjoy Your Miserable Life (with *hitmayng)
CRASHvillainy
I Hate All You Rap Niggas: A Thesis 
masters&martyrs (with Kiazma) 
Performed With:
Danny Brown
Lil B 
SpaceGhostPurrp
Mac Lethal
Chance the Rapper
People Under the Stairs
kitty pryde
Turquoise Jeep
Rockie Fresh
Rafael Casal
Decipher